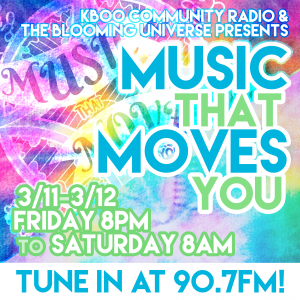 Subscribe to podcast
Presented by The Bloomin Universe
As a part of KBOO's All Thrills No Frills special programming campaign, The Blooming Universe presents: Music That Moves You. An almost every genre and era dance music marathon. How do you express yourself via dance? Do you thrash, two step or shoulder lean? Do you enjoy the cha cha, running man or tango? Are you stoked on the chicken noodle soup, mashed potato or do you just love eating mashed potatoes? Dj Kabloom and friends will provide a whimsical, creative, funky, silly, groovy, bombastic and extra rad venue for you to be the dancing queen you were always meant to be! Thank you so very much for being a part of this exciting and inspiring event and also for being a supporter of our All Thrills No Frills campaign!
KBOO programming is only possible thanks to your support! Donate to KBOO right now!
Get the limited edition Music That Moves You tie dye collapsible water bottle!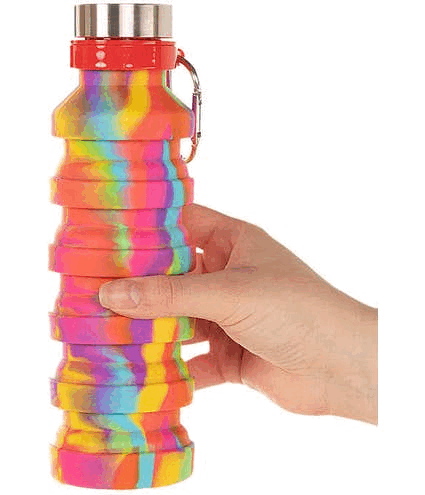 Marathon Schedule:
| Time | DJ Set |
| --- | --- |
|   8pm - 10pm |  Reggaeton y dance-beats.... past to the future and beyond - Alexei Marin |
|   10pm - 12am |   Dancin' with the Devil - Diablo |
|   12am - 12:30am |   Best of British: Bassline to Grime - Margot Bigg |
|   12:30am - 1am |   Powerful and Empowered - Kabloom |
|   1am - 2am |   Let's Get Weird - Tronic |
|   2am - 4am |   Music That PandæMoves You-um - Pandæmonium |
|   4am - 5:30am |   Acid City - DJ Rizatek |
| 5:30am - 6am |   Setting the Mood - Kabloom |
| 6am - 7am |   South Indian Beats Hour - The Incredible Kid |
| 7am - 9am |   Express Yourself - Kabloom |
| 9am - 9:30am |   80s Remixed - Gila Suspectum |