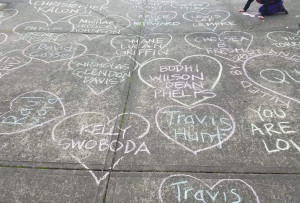 Subscribe to podcast
A holistic, people-centered conversation about policing in Portland and beyond, with an emphasis on community oversight, social justice activism, and alternatives to current paradigms.
Totality of circumstances is a legal concept with a wide usage, but in this context it is part of the framework used around police interactions with the public, in which the actions of an officer are viewed in terms of the "totality of the circumstances" at the moment of interaction, and specifically at the moment force is used against a civilian. It is a deceptive term—"totality" is viewed entirely from the viewpoint of the officer, and the factors at play in their mind, as opposed to the true "totality of circumstances" at play in the interaction—the place of the police and civilian in an unjust capitalist system; systemic and personal racism and bigotry; societal attitudes towards the mentally ill, economically disadvantaged, and certain subcultures; entrenched interests like business and police unions; structures of power at the city, county, state and federal levels; and the weight of history and the status quo.
Reach us at totalityradio@gmail.com