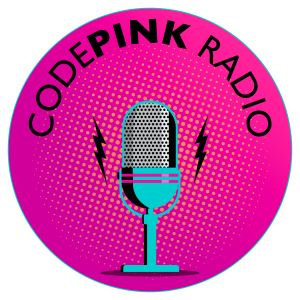 Subscribe to podcast
CODEPINK is a women-led grassroots organization working to end U.S. wars and militarism, support peace and human rights initiatives, and redirect our tax dollars into healthcare, education, green jobs and other life-affirming programs.
Founded in fall 2002 as a grassroots effort to prevent the US war on Iraq, we continue to organize for justice for Iraqis, to hold war criminals accountable, and to end and prevent other U.S. wars and regime change efforts. We actively oppose U.S. sanctions on Iran, Venezuela, N. Korea, Cuba, and more, the continuing U.S. war in Afghanistan, torture, the detention center at Guantanamo, weaponized and spy drones, and the prosecution of whistle-blowers. We support Palestinian rights, diplomacy, and growing local peace economies. Our flagship campaign is Divest from the War Machine to divest from companies that derive their profits from U.S. military interventions, the global arms trade, and the militarization of our streets.
Rooted in a network of local organizers, online supporters and generous donors, with an emphasis on joy and humor, our tactics include satire, street theatre, creative visuals, civil resistance, and directly challenging powerful decision-makers in government and corporations. And of course, wearing pink!
CODEPINK is not exclusively women — we invite non-binary, gender-non-conforming people, and men to join us.
CODEPINK is grounded in the understanding of the power of love and maintains a commitment to nonviolence in all of our actions. We understand that any violation of this commitment to nonviolence—no matter how small—may seriously damage our movement.
We define nonviolence to include the following elements:
We will use no violence, verbal or physical, toward any person.
We will maintain an attitude of openness and respect toward all people we encounter in our actions.
We will not destroy any property.
We will carry no weapons.
We will exercise personal and collective responsibility to ensure all participants adhere to these commitments