Air date:
Thu, 08/08/2019 - 10:00pm

to

Fri, 08/09/2019 - 12:00am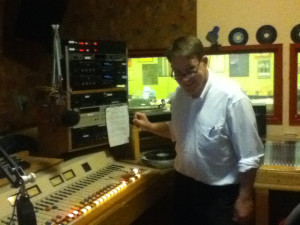 With special guest Jim Larrance
With special guest Jim Larrance Kyle Bullhorn
That's right!
I'm on a much needed vacation, so hard-hitter Jim Larrance Kyle Bullhorn, of retired KBOO program No Soap Radio, fills in after a long absence from Portland airwaves.
And it was a great show! It was something to sit and listen to my own time-slot and hear someone who made me want to get into radio in the first place. I hope to have Jim on and do radio with him again in person in the very near future.
Playlist:
Negativland - I Am God
Emergency Broadcast Network - Super Zen State (Power Chant No. 3)
Negativland - ABC's of Anarchism
Cutupsound - Bush Economy
Cutupsound - Chuck Norris Election Year Message
Howard Roberts - 5 gallons of Astral Flash
Go Home Productions - Downtown Octopus
Luciano Albo - She's Leaving Home, Motown Version
Cutupsound - Weather Facts with Frank Figures
Cutupsound - An Echo of That Word
Cutupsound - The Life & Times of Judge Roy Moore
Cutupsound - Wilhelm, the Immortal
Alyce Santoro - Saint Cecilia Plays the Cans
Dean Elliott & His Big Band - You're The Top
Mr F Le Mur - Dragnest selections
Franz Waxman - Rear Window, opening credits
Cutupsound - Broken Record Sale 2003 - 01
Christian Marclay - Record Without A Cover
Tony Schwartz - City Pitchmen (excerpt)
Cutupsound - That's What I Like About the Jam
Cutupsound - HV Kaltenborn
Cutupsound - George Putnam
Cutupsound - Tom Hanks
Cutupsound - Edison
Johnny Green - Easy Come, Easy Go
People Like Us - We Edit Life
Cutupsound - MacArthur vs the Flying Saucers
Update Required
To play the media you will need to either update your browser to a recent version or update your
Flash plugin
.