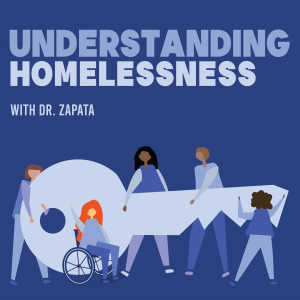 Subscribe to podcast
Understanding Homelessness is a show that illuminates the underlying causes of homelessness, explains systems that perpetuate it, explores innovative solutions, and shares stories from those with lived experiences.
Portland State University Associate Professor Dr. Marisa Zapata talks with experts, including those with lived experience, on how to better understand and address homelessness.

Dr. Zapata is the director of Portland State's Homelessness Research and Action Collaborative, which brings together expertise and skills from across Portland State University and the country to collaborate with people experiencing homelessness, advocates, service providers, leaders, and other stakeholders.

The center's goal is to reduce homelessness and its negative impact on individuals, families and communities with an emphasis on communities of color through solutions-oriented research and evidence-based science.