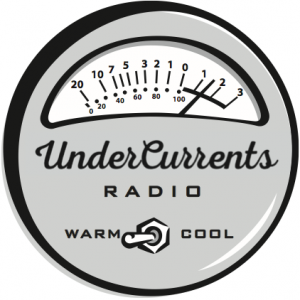 Subscribe to podcast
UnderCurrents is the daily, 4-hour music mix heard around the USA and the world via Native Voice One: The Native American Radio Network.  We began as a service to enhance and extend the offerings of Native stations, of which there are dozens.  But the show has caught the ear of music lovers everywhere and is now heard on 204 stations, in Alaska, California, The Southwest, Texas, The Deep South, Great Lakes, Plains and Rockies; from the big cities to cozy villages we're there...even in Guam and New Zealand!  UnderCurrents brings together music fans across borders, cultures and generations.
UnderCurrents Creator and Host Gregg McVicar (Tlingit) is an award-winning radio producer with a deep background in all aspects of on-air life: journalism, documentaries, interviewing, field recording, digital editing & mixing, voiceover, live talk shows...and of course, music.
He began his radio career in college radio (KHSU) grew his DJ chops in rural markets like Arcata and Mendocino, then moved up to major market air posts in Sacramento, Los Angeles and The Bay Area, working on-air at stations while freelancing for NPR, Pacifica, CBC and others.   All along the way, he's been collecting music, meeting artists, teaching, learning, sharing and enjoying the creative playground of noncommercial radio.
Senior Producer Gabriela Castelan (Chicana) hosts twice each week.  Over the years, you may have heard her on KBBF, KQED, CSU Radio News, PressOne, California Public Radio, KPFA, Pacifica, and national voiceovers.  She has a great ear for music, informed by her love of Jazz and honed by playing guitar, piano, singing and attending some 75 music festivals. She also distributes the playlists to you each day here on this website and on Twitter.
Assistant Producer Joe Yuhre is an accomplished singer/songwriter/guitarist.  With his musician's ear, he makes sure Gregg & Gabriela's mixes find their way smoothly to the the public radio satellite.
And our guest hosts, Luis, Jeneda and Sierra each bring their unique perspectives to the show!
https://www.undercurrentsradio.net/