Coming Soon
Airs at: Fri, 10/26/2018 at 8:00pm - 10:00pm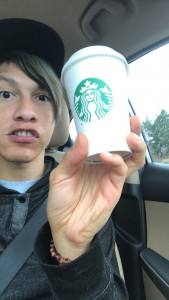 Subscribe to podcast
2-Hour Music Show hosted by Ender Black, every 4th Friday from 8-10pm
MUSICAL FOCUS: Relevant Pop and Hip-Hop, made by young musicians and influencers.
Yoooo welcome to the prime radio show made by and for local youth, youngsters, hunks, nerds and hipsters! For Portland and beyond the galaxies !! 
Songs to uplift the spirit and untame your mind, heighten your awareness of this moment you're alive, and facilitate your triumph in existence.
My name is Ender and I'm a singer, been in bands for three years now, crafting my craft, learning, practicing, under the shadows of local publications, shy as heck I suppose, and now I'm going through a musical transition of Pop proportions. Haha that should be the name of this show, Pop Proportions. But it's not, it's called Squirrels Know because I love squirrels, raised a baby squirrel to adulthood and released her and that experience made me the best human boy I could ever hope to become. 
Thank you for supporting local community radio, I know young people don't tend to listen to radio. What for if we have YouTube and Spotify??!   This station has been a blessing to me though, a vehicle to express myself, discover new music and art and most importantly, meet remarkable people. Thank you so much for supporting this wonderful radio station !!
-----------------------------------------------------------------------------------------
SPECIAL ASSIGNMENT / INTERVIEW
TEAM CHOEY - JOEY BIRLEM, CHARLES GITNICK, CHAD NAZAM 
-----------------------------------------------------------------------------------------
WARPED TOUR '17 IN SALEM, OR  -  06/17/17:   
-----------------------------------------------------------------------------------------
PORTLAND BAND  -  05/24/18:   
-----------------------------------------------------------------------------------------
SHOW GOES LIVE ON THE 4TH FRIDAY OF EVERY MONTH
Next Show:   SEPTEMBER 28TH 2018, 8-10PM
Stream on the KBOO App (available for Apple and Android)  << Super comfy and practical way
Also, old school on the dial  >> 90.7FM Portland, 91.9 FM Hood River, 104.3 FM Corvallis/Albany​
-------------------------------------------------------------------------------------------
[.]