Air date:
Fri, 11/27/2020 -

8:00pm

to

10:00pm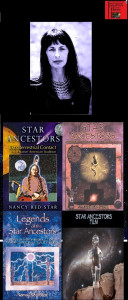 More Images: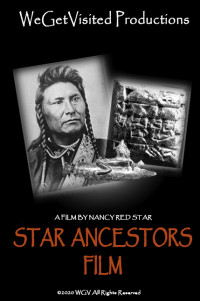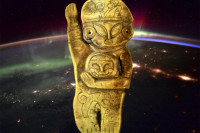 Join Ender Black on a star people discovery journey!  Tune in for an exclusive interview with elder Nancy Red Star, citizen of the Red Lake Nation, Minnesota, and currently residing in the Pueblo area of Taos, New Mexico. Renowned author, researcher and filmmaker on the subject of star people and star nations, i.e people and beings from other realities, dimensions, planets and planes of existence within and beyond our galaxy, and specifically their relationship, history and partnership with Native Americans since time immemorial. --- Nancy Red Star is author of the Star Ancestors Trilogy, three books published on 2000, 2002 and 2012, as well as producer of the Star Ancestors film, scheduled to be released soon. She has also published the books Life With A Cosmos Clearance: Interview with retired counterintelligence agent Daniel M. Salter (2003), and U.F.O.'s: No Threat, Official Eyewitness Testimony I & II (2008, 2010). We discuss staple topics for Squirrels Know, such as humanity's preparedness in regards to interactions with Star People, as well as the role of wonderful tribes, such as the Kogi people (Northern Colombia, South America) and the Hopi (Arizona) in these unprecendented exchanges --- We go deep on topics like Star Law (Galactic Law), and what that really means for ourselves and our planet; we are reminded of the sentience and value of animal beings, their role and purpose, and our role and purpose of honoring and protecting them. ---  We also discuss the massive misinformation and disinformation regarding a multiplicity of world subjects, especially in regards to human life outside the borders of our planet and collective reality. --- Join us for a fantastic conversation about what's coming next to our beautiful planet! As we might expect, there is no way humanity's misguided elites are going to be allowed to willingly or unwillingly continue to destroy everything we hold dear! :)
About Star Ancestors, Extraterrestrials in the Native American Tradition: As humanity stands at the crossroads between the Fourth and the Fifth Worlds, American Indian wisdomkeepers have recognized signs that they must now speak their closely held knowledge about extraterrestrial contact, their original instructions from the Sky Elders. These ET relationships have existed since the beginning of time. They have been depicted on ancient rocks and hides, embedded in creation stories, choreographed in sacred dances, beaded on wampum belts, and continued to this day through rituals and the tobacco blessing. They show that with the vital support of our Star Ancestors, we can bring our planet back into balance with natural laws. Exploring the unifying "Sky Elder" theme found in virtually every Indian culture, Nancy Red Star shares her profound interviews with wisdomkeepers from several Native traditions, including Mayan elder and daykeeper Hunbatz Men, Stargate International CEO and UFO researcher Cecilia Dean, and Choctaw medicine man Sequoyah Trueblood, and offers their teachings on taking our rightful place among the peoples of the universe. 
About the film: Star Ancestors explores the fascinating and profound connections that exist between "Ancient Astronauts" and Indigenous Peoples throughout Mesoamerica. The film series details a Pan-American genesis story crediting forefathers from off this Earth in a shared communion. Coming into view is the indigenous prophecy ~ prophecies carved on rocks, etched in temples, choreographed in sacred dances, and beaded on story belts over thousands of years. Nancy Red Star's Star Ancestors film provides the viewer with the stunning impact of visual documentation, archival footage ~ all exquisitely photographed in evocative locations and aligned with a unique musical score.
*Photographs: ©WeGetVisitedProductions/NancyRedStar
Update Required
To play the media you will need to either update your browser to a recent version or update your
Flash plugin
.