Coming Soon
Critical Questions to Consider in Formulating Policies around AI
---
What if AI were designed with a "people first" approach?
---
AI and Evolving consciousness: What does it mean to have consciousness?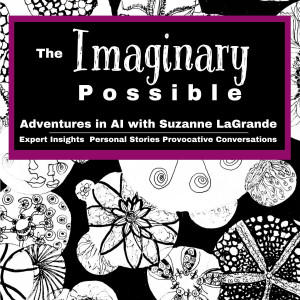 Subscribe to podcast
Produced for (Program name):
A show about the captivating potentials and troubling realities of AI today
"From customer service chatbots, to job applications processed through applicant tracking systems (ATS. ), and facial recognition technology used in airport security checkpoints, AI is rapidly changing our world.

New AI-powered technologies have the potential to make our cities greener, accelerate scientific discoveries, and liberate us from monotonous tasks; however, AI also brings the possibility of job displacement, automated discrimination, and increased corporate control.

Welcome to ""The Imaginary Possible,"" a special radio series dedicated to exploring the captivating potentials and troubling realities of Artificial Intelligence. Join host Suzanne LaGrande and guests as we explore the social impact and human consequences of emerging AI technologies.

Each episode of The Imaginary Possible mixes thought-provoking interviews, with personal stories, expert insights and satirical commentaries to raise questions about how we can create a future where both humans and the natural world thrive.


2