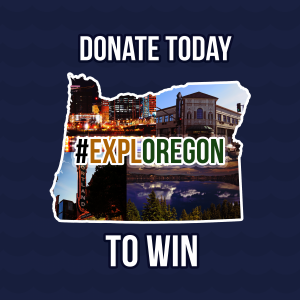 Published date:
Wednesday, December 26, 2018 - 4:15pm
Today is the LAST BIG Give Day with Willamette Week!  When you give $10 or more to KBOO today you will be entered the #Exploregon Vacation raffle package - this includes Two vouchers for a pair of premium-level seats to Literary Arts' presentation of Everybody Reads: Chimamanda Ngozi Adichie and a Two nights stay at the Portland Marriott Downtown Waterfront, a day trip to Astoria a gift certificate for tickets to any Liberty Theatre presented event in historic downtown Astoria, with appetizers on the house and an Outdoor Adventure at Crater Lake that includes a one night stay at the Running Y Ranch Resort plus gift certificate for two at  Crater Lake Zip Line Falls. This package is packed with incentives when you contribute $10 or more right now at kboo.fm/give or call (503) 231-8032

This year Willamette Week and KBOO are challenging our community to give with their dollars AND Take Action by showing up in real life.

Your dollars have the power to communicate your values - give at  kboo.fm/give or call (503) 231-8032