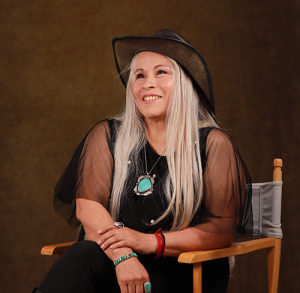 My name is Carmen Garnica. I am a long-time Radio Producer in the Spanish Language Tuesday programing at KBOO 90.7 FM. I was invited to become a part ot the Tonalli Radio Co-Op by co- producer Ivonne Rivero, who was aware of the work and community engagement I had been carrying on for many years in the Latinx and Native- American communities.
The purpose of this letter is to let you know I have been invited to be part of this Board of Directors as an Interim Director.I am interested, I have the time and the willingness to learn, participate and contribute my time and vision for a more equitable radio and community organization.
Let me share with you some of my background. I am an immigrant, but have continuously lived in the area for 20+ years. I am the mother of an amazing woman, artist and keeper of the Oregon lands. I am the grandmother of two wonderful children, one of them is challenged by neuro-diversity and living in a world that was not designed for them. I am a keeper of traditions, as per my ancestors in Mexico.
I earn my living through my business, INSOMNIA Art and Culture,an itinerant gift shoppe for the Latinx culture curious. I also work closely with the Indigenous traditions. I cultivate some of the traditional medicines used by my ancestors to heal the body, mind and spirit.
My shop was formerly housed at the M&M Multicultural market, the so-called "Flea Market" in Hillsboro. After the disruption caused by COVID-19, many micro-entrepreneurs like myself simply had to close shop. I was one of many whose rights were trampled by the lack of funds for paying the rent. Business came to a standstill and many of the small and micro-entrepreneurs lost their belongings as well. Most of this went unknown to the authorities and community, with total impunity.
This is one of the reasons why I believe in the power of KBOO and its programming as a link to underserved communities, like mine. I often ask whether people might have to wait six to ten years to learn the English language, but I tell you that WE NEED COMMUNICATION and ACCESS TO THE MEDIA now. This is one of the reasons why KBOO has been so meaningful to communities all across Oregon (and SW Washington!) After been elected and im currently serving on the Development Committee I want to continue learning and serving to my community.
I want to thank you for your attention to this letter. I am looking forward to questions in regards to my work at KBOO in these last 7 years, the alternative media and the role of Spanish and the Spanish- speaking communities in Oregon.
Back to the Elections Page