Air date:
Tue, 11/17/2020 -

11:30am

to

12:00pm

More Images: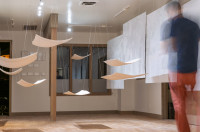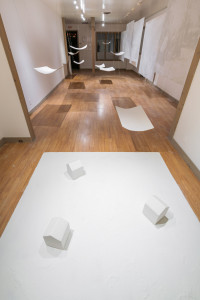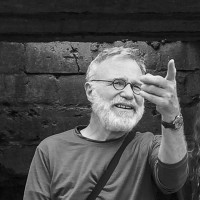 On Tuesday November 17, 2020 at 11:30 a.m. Joseph Gallivan interviews artist Thomas Orr
On Tuesday November 17, 2020 at 11:30 a.m. Joseph Gallivan interviews artist Thomas Orr about his show Transitory Refuge and Other Questions which runs now through November 18 at Eutectic Gallery in North Portland. Orr talks about taking a breather during the panicky pandemic, his methods for creating hanging clay shapes, PTSD, healing and the value of his memories from fighting in the Vietnam War.
Eutectic Gallery
1930 NE Oregon St
Entrance on NE 20th – by appointment only
Portland, Oregon 97232
FROM THE PRESS RELEASE:
Don't miss the exhibition walk-through, viewable here and on our YouTube channel.
"At the beginning of this year, as I was preparing for this exhibit, Portland went into lockdown due to the Coronavirus.  With my age placing me in the most vulnerable group, I heeded the advice to hunker down.  During this strange and alienating time, I came across a connection, on the internet, to the family of one of my platoon sergeant's, John Mills, who died in Viet Nam.  This connection quickly became richly poignant, with all of us tearfully filling in gaps of moments in this young man's life.  The emotion of this connection continued to open a space that Covid had initiated, one where I began to consider my own vulnerability and mortality.
Amongst the competing realities of the Pandemic, equal justice for all, police brutality and the political landscape heading toward the 2020 election I returned to the studio seeking the self-reflection that is a companion on an artist's journey.
Years ago, while attending Francis Ford Coppola's movie "Apocalypse Now", I was taken by the playing of Wagner's "Flight of the Valkyries" in a scene depicting UH-1 Huey carrying soldiers into battle.  In Norse mythology the Valkyrie didn't carry warriors into battle but instead removed the dead and wounded from battleground.  I think of Valkyrie as the UH-1 Medevac helicopter in Viet Nam carrying the wounded and dead to safety.
Transitory Refuge and Other Questions embraces memory, love, family, vulnerability, and mortality. It is a continuing exploration into some of the queries that I grapple with around the ever-moving lines of safety/vulnerability, refuge/oppression, life/death, past/present and what it means to be a survivor.  It addresses 2020 as much as 1968 as we experience multiple unknowns and inequalities.  I trust you find in this work one of those restful slices between large waves near the shore where one can breathe deeply, dive down and come up beyond the next large wave, then repeat."
Thomas Orr
3 November, 2020
In 1968 Thomas Orr served in the Republic of Viet Nam with the 11th light infantry brigade in Quang Nai province as a combat infantry platoon leader.  Following his discharge, he pursued studies in Oceanography during which time he took ceramics as a required art class.  This experience led to a decade of living in the foothills of northern California where he dug clay and used wood to fire pots formed on a potter's wheel he created from the axle of an abandoned automobile.  Moving to a small college town he worked as a studio artist while performing the duties of a ceramic technician at the local state college.  At the end of the '80's, following a stint in a PTSD program at the Menlo Park VA Center, Thomas attended the Claremont Graduate School earning an MFA.  The next years were spent traveling the country teaching sabbatical replacement jobs and doing studio work.  In 1995 he joined the faculty of the Oregon College of Art and Craft in Portland, Oregon. In his eighteen-year tenure at OCAC he served as the department chair of the ceramics program and interim academic dean. 
Following his retirement in 2013 he and his artist wife Joanna Bloom, created and directed the Emerging Artist Mentorship Program at the Ash Street Project where they have their studios.
1930 NE Oregon St
Entrance on NE 20th - temporarily closed to the public
Portland, Oregon 97232
To hear previous episodes of this show or any of our KBOO public affairs programming, just go to KBOO dot F-M or listen on iTunes, Google Play, or wherever you get your podcasts.
Joseph Gallivan has been a reporter since 1990. He has covered music for the London Independent, Technology for the New York Post, and arts and culture for the Portland Tribune, where he is currently the Business Reporter. He is the author of two novels, "Oi, Ref!" and "England All Over" which are available on Amazon.com
This show was recorded on a handheld Zoom HS2 in Portland on November 6, 2020, at Eutectic Gallery.
Update Required
To play the media you will need to either update your browser to a recent version or update your
Flash plugin
.
Download audio file