Air date:
Tue, 09/08/2020 -

11:30am

to

12:00pm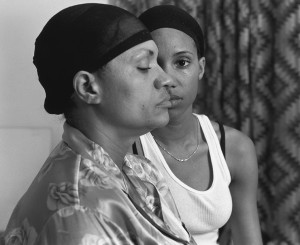 More Images: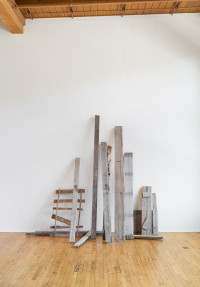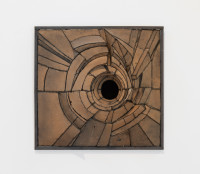 Joseph Gallivan interviews Libby Werbel, Director of Public Programming and Engagement at the Lumber Room
On Tuesday Sept. 08, 2020 at 11:30 a.m. Joseph Gallivan interviews Libby Werbel, Director of Public Programming and Engagement at the Lumber Room. Werbel talks about a range of works in the current show Finding Our Way, including those by Cornelia Parker, Kate Newby, Lee Bontecou, Lonnie Holley, Mary Obering, LaToya Ruby Frazier and Johanna Jackson.  The Lumber Room is the home and exhibition space for the Miller Meigs Collection. Finding Our Way is on now until the end of the year, by appointment only at www.lumberroom.com.
FROM THE PRESS RELEASE:
Finding Our Way (MARCH – DEC 2020)
---
Over the past 10 years the lumber room has established itself as a meeting ground, exhibition space and private residence, with a goal of creating access and community around a shared interest in the arts. Our current exhibition aims to highlight the idea of the lumber room as a place in-between roles; a site that strives for domestic comfort while inviting discourse around contemporary art. Finding Our Way explores the collection as a point of entry for understanding the person who built it, Sarah Miller Meigs, and the artists and ideas she supports. 
With an intention of engaging the collection within the setting of a home, this exhibit will experiment with informal modes of display and a regular rotation of work being moved in and throughout the space. 
Finding Our Way begins with work by: Phyllida Barlow, Lee Bontecou, Geles Cabrera, Talia Chetrit, Rose Dickson, LaToya Ruby Frazier, Suzan Frecon, Magdalena Suarez Frimkess, ektor garcia, Sonia Gomes, Lonnie Holley, Maryam Hosseini, Sheree Hovsepian, Johanna Jackson, Martha Jungwirth, Elisabeth Klee, Zoe Leonard, Anna Maria Maiolino, Helen Mirra, Ragen Moss, Ulrike Müller, Erin Jane Nelson, Kate Newby, Ann Cathrin November Høibo, Cornelia Parker, Laure Prouvost, Mary Obering, B. Ingrid Olson, Sally Saul, Oana Stanciu, and Jesse Wine.
In addition to the rotating art on view, Finding Our Way will also include a contemporary film program with visiting works from both regional and international new media artists. Our film program begins with a mini-documentary titled Échale Sávila, 2019 (12 min.) by Los Angeles based filmmaker Caitlin Diaz. Guided by the music project Sávila, the film finds the band interviewing their mothers as they speak on themes of Mexican-American identity, resilience, inter-generational healing, and beauty shot through the lense of super-8 film.
 
Please visit The Checklist, a weekly exploration of works and the artists on view.
Libby Werbel is an artist, curator, and social organizer living and working in Portland, OR. In 2012, she founded the Portland Museum of Modern Art (PMOMA) project to instigate discourse around what a community-built museum could be. With an emphasis on accessibility and engagement, Werbel continues to makes site-based works, partnering with artists and institutions, both formally and informally to make cross disciplinary art exhibitions. Her investigation in space-making has included alternative exhibitions models in Barcelona, Tokyo, San Francisco, New York City, Joshua Tree and Santa Fe. Werbel has received public and critical acclaim for her DIY organization methods and creative mobility within her institutional critique projects.
She was a recipient of the Precipice Grant in 2013 and 2015, a funding initiative of The Andy Warhol and Calligram Foundations distributed through Portland Institute for Contemporary Art, for projects being developed on the edge of new practice. In 2016 Werbel was featured as an artist in PICA's Time Based Arts festival and was awarded a large capital fund through the Houseguest Residency to mount a free public "contemporary art museum" for 2 days in Portland's Pioneer Courthouse Square. Most recently Werbel fulfilled a two year position as Visiting Artistic Director at the Portland Art Museum, where she created five unique exhibitions encouraging audiences to think critically about how museums have traditionally granted access to art and knowledge, and what the future of the Institution could look like.
Professionally, Werbel acts as the Director of Public Programming and Engagement at the lumber room, a collection house and exhibition space for the prestigious Miller Meigs Collection and teaches in the MFA studio art program at Portland State University.  She has sat on various granting panels, selection juries and committees for the Regional Arts and Culture Council, Oregon Arts Commission, Ford Family Foundation, PICA, Pacific Northwest College of Art, Disjecta, and National Visual Artist Network. She spends her time advocating for equity, restorative justice and cultural progress in the arts both locally and nationally.  In 2019 she will publish a book about her experimental programming at Portland Art Museum, titled We.Construct.Marvels.Between.Monuments.
To hear previous episodes of this show or any of our KBOO public affairs programming, just go to KBOO dot F-M or listen on iTunes, Google Play, or wherever you get your podcasts.
Joseph Gallivan has been a reporter since 1990. He has covered music for the London Independent, Technology for the New York Post, and arts and culture for the Portland Tribune, where he is currently the Business Reporter. He is the author of two novels, "Oi, Ref!" and "England All Over" which are available on Amazon.com
This show was recorded on a handheld Zoom HS2 in Portland on Sept 4, 2020, in the Lumber Room on NW 9th Ave, Portland.
Update Required
To play the media you will need to either update your browser to a recent version or update your
Flash plugin
.
Download audio file