Air date:
Mon, 05/25/2020 -

8:00pm

to

10:00pm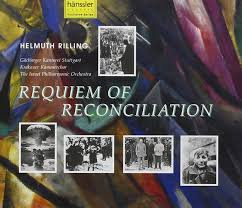 The Requiem of Reconciliation is a collaborative work commissioned in 1994 for the 50th anniversary of the end of World War II, as a memorial to it's victims.  The Catholic mass for the dead is set in fourteen sections, each written by a different composer from a country involved in the war.  It was commissioned by the Internationale Bachakadamie Stuttgart, and premeired by the Gächinger Kantorei Stuttgart, the Krakow Chamber Choir, and the Israel Philharmonic Orchestra, conducted by Helmuth Rilling.  For this Memorial Day 2020 edition of A Different Nature, we present the Requiem der Versöhnung in it's entirety, 75 years after the end of the War, to again pay tribute to the millions killed, to the many millions more whose lives were forever changed, and to the millions of victims of the wars since 1945 that our species continues to wage against itself, and also to remember those we have lost in the current pandemic. The sections of the work are as follows:
i. Prolog [5'37] : LUCIANO BERIO (Italy, 1925-2003) 
ii. Intriotus und Kyrie [9'16] : FRIEDRICH CERHA (Austria, b. 1926)
iii. Sequenz/ Dies Irae [11'02] : PAUL-HEINZ DITTRICH (Germany, b. 1930)
iv. Judex ergo [7'53] : MAREK KOPELENT (Czech Republic, b. 1932)
v. Juste judex [5'48] : JOHN HARBUSON (USA, b. 1938)
vi. Confutatis [8'13] : ARNE NORDHEIM (Norway, 1931-2010)
vii. Interludium [11'36] : BERNARD RANDS (UK/ USA, b. 1934)
viii. Offertorium [7'34] : MARC-ANDRÉ DALBAVIE (France, b. 1961)
vix. Sanctus [6'37] : JUDITH WEIR (UK, b. 1954)
x. Agnus Dei [7'35] : KRZYSZTOF PENDERECKI (Poland, 1933-2020)
xi. Communio (I) [4'49] : WOLFGANG RIHM (Germany, b. 1952)
xii. Communio (II) [5'17] : ALFRED SCHNITTKE (Russia, 1934-1998)
xiii. Reponsorium [12'26] : JOJI YUASA (Japan, b. 1929)
xiv. Epilog [3'15] : GYÖRGY KURTÁG (Hungary. b, 1926)
Update Required
To play the media you will need to either update your browser to a recent version or update your
Flash plugin
.