Air date:
Wed, 07/24/2019 -

8:00am

to

6:00pm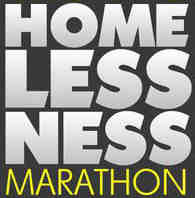 Tune in on July 24 from 8a-6p for our annual broadcast of the Homelessness Marathon.
Call in to the marathon at 877-NOBODY-8 (877-662-6398)
The Homelessness Marathon is a unique radio program that gives homeless people and their allies a chance to speak with the nation about their experiences. Along with its offshoot, the Canadian Homelessness Marathon, it is the only regular broadcast in the world focusing on homelessness. 
Broadcasting from a different city each year, and airing on non-commercial radio stations coast-to-coast, the annual 14-hour Marathon features live reports, interviews with advocates and experts, and calls from listeners all over the country. Above all, the program centers around the voices of homeless people talking about their real circumstances, obstacles, and potential solutions. 
"Part of the point of doing such a long broadcast," explains the Marathon's founder and director, Jeremy Weir Alderson, "is to show that homelessness can't be dismissed with a single sentence like, "They're all drunk and crazy."
The goal is to create a dialogue on poverty, its causes and effects, and ideas for solving the homelessness crisis. This goes beyond just talking about homelessness: instead, the Marathon focuses on hearing and learning from the lived experiences of homeless people around the nation... ideas and voices that are completely missing from current political discourse. 
This year's broadcast will include discussions with homeless youth, students and LGBTQ people; panels on fighting evictions, transitioning people back into housing and ending homelessness now; live discussions with homeless people around Boston, including at a Health Care Without Walls facility, the Paulist Center Supper Club and a homeless art program. Other participating organizations will include the Massachusetts Coalition for the Homeless, Spare Change News and Father Bill's Place. National participants will include Cheri Honkala, former Green Party VP candidate and Rev. Liz Theoharis, co-chair of the Poor People's Campaign. PLUS MUCH MORE TO BE ANNOUNCED!
The broadcast will also include this special test:
Invitations were sent to 21 presidential candidates (including the incumbent), inviting them to participate in the broadcast by explaining how they plan to end homelessness. To us, the participation or non-participation of the presidential candidates is a test of their characters. Will they take a few minutes out of their long campaigns to talk with the homeless and their allies about solutions to this national disgrace?  One has accepted so far, but we aren't releasing the name yet, because it's too early to make a judgment.
Originating in Boston, available nationwide:
We extend our thanks to this year's host station WMBR, the radio station of MIT, and to the Pacifica Broadcasting System, which will distribute the program for free over its Audioport system.  Without their help, this broadcast would not be possible.
The program will be broadcast on community, college and public radio stations around the country. It's available free to any radio station that would like to air it. A list of participating stations will be posted later this month at the website, homelessnessmarathon.org.