Air date:
Mon, 09/25/2023 -

9:00am

to

10:00am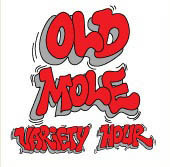 Views, Reviews, and Interviews from a Socialist-Feminist, Anti-racist, Anti-colonial and LGBTQ-positive Perspective
Patricia Kullberg hosts this episode of the Old Mole, which includes the following segments:
Back to School (and Gun Violence): Right wing gun lovers are doubling down on their push to arm teachers. But as it turns out, gun-toting personnel in schools make violence worse. Our Well Read Red Sharon Grant reads from an article by teacher Nataliya Braginsky which was published June 7, 2022 in In These Times, titled "In the Wake of Uvalde a Teacher's Plea for Police Free Schools": https://inthesetimes.com/article/uvalde-texas-mass-shooting-police-cops-...
Back to School in Crisis: Claims that education is in crisis often mischaracterize the nature of the problems and of the solutions. The problems do not arise from remote learning, nor from the accurate teaching of US racial history, nor the respecting of children's gender identities. The broader crises of climate, economy, and health present particular dangers and challenges for young people and their teachers, and the solutions are not AI, privatization, or censorship, but solidarity, democracy, and clearing the air. Frann Michel explains it all in more back-to-school commentary.
Legal Strategies for Climate Justice, Part two: The fight against construction of Enbridge Company's Line 3 in Minnesota, carrying tar sands oil from Canada through the Midwest, was the largest Indigenous-led pipeline resistance in North America after Standing Rock. Opposition from 2017-2021 brought thousands of people from across the country to join front-line camps in solidarity. The repression was brutal with over 1000 activists charged with criminal offenses. Jan Haaken talks with Claire Glenn and Kira Kelley, attorneys with the Climate Defense Project, about these cases, the activists still facing charges, and what the lessons are for strategies of resistance. Glenn and Kelley take up what they view as key principles in movement lawyering and the limits of using the courts as a forum for justice. If interested in court-watching visit: https://courtwatchpg.com/
Lady Tan's Circle of Women: Lisa See's historical novel, Lady Tan's Circle of Women, is a meticulously researched book on Chinese medicine in the 1500's. It purports to be a record of a female doctor. Midwives, women who deliver newborns, are an essential part of medical treatment for women. "…since we physicians acknowledge blood is corrupt and corrupting, then how can a woman give birth without the aid of a midwife." Male doctors are not allowed even to touch women. They treat only by sitting behind a screen and issuing orders to the women who tend to the actual body of the mother and child. Book Mole Larry Bowlden reviews this fascinating and lovely story. 
Update Required
To play the media you will need to either update your browser to a recent version or update your
Flash plugin
.
Download audio file