Air date:
Mon, 07/03/2023 -

9:00am

to

10:00am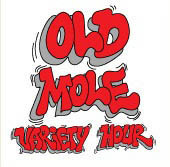 Views, Reviews, and Interviews from a Socialist-Feminist, Anti-racist, Anti-colonial and LGBTQ-positive Perspective
Jon Nelson hosts this episode fo the Old Mole, which includes the following segments:
Making Peace with China: Several top military officials and many pundit "experts" are predicting that mutual U.S. and China provocations by warships and fighter planes on and over the South China Sea will devolve into full scale war within the next two years. And U.S./China conflicts are not just military; China is also challenging U.S. domination of international economic structures. But the U.S. insists that world peace and prosperity requires a strong but just leader, that is, this country of course. Bill Resnick's guest this week is Jake Werner of the Quincy Institute on statecraft; his responsibility is to avoid a hot war between the two. On June 19 Bill and Jake examined the emergence of their great power conflict and the possible war between them. This week Jake Werner talks about policies to rebuild constructive economic and military relations.
Student Debt: "My Imaginary Commencement Address at Milgram State University on the Topic of Student Debt."  Desiree Hellegers reads an excerpt from her recent commentary in Counterpunch magazine, arguing for comprehensive student debt cancellation.
The Covenant of Water: Book Mole Larry Bowlden reviews Abraham Verghese's 2023 novel, The Covenant of Water, a story that is both wonderful and daunting. Verghese is a medical doctor of renown, and the reader learns as much about medicine as about the caste system in India. This compendious novel covers generations and great distances. It is well worth the effort.
Strike! Johanna Brenner interviews two Portland UPS workers about how 350,000 UPS workers nationally are preparing for a strike and how Portland Teamsters are organizing. The contract between the Teamsters Union and UPS expires July 31 and so far the company is not budging.  Neither is the union. Find out what the key issues are for UPS workers, how they are preparing to strike, and why this fight is crucial for the entire US labor movement.
Update Required
To play the media you will need to either update your browser to a recent version or update your
Flash plugin
.
Download audio file