Air date:
Tue, 09/28/2021 -

11:30am

to

12:00pm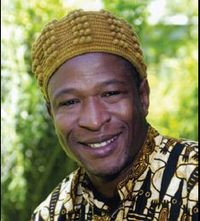 More Images: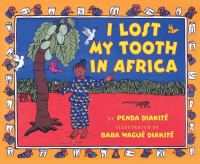 Aurora Josephson interviews Baba Wagué Diakité
On Tuesday, Sept 28, 2021, at 11:30 a.m. Aurora Josephson interviews ceramic artist and author Baba Wagué Diakité. [PRONOUNCED BABBa WAG-ay JAK-itay] He talks about Black Lives Matter and Pan Africanism, the family vegetable garden, Amílcar Cabral and being an educator and an ambassador.
Recorded at Baba Wagué Diakité's studio and edited by KBOO volunteer Ray Bodwell. Background;   Baba Wagué Diakité: Hello. B. Diakité: My name is Baba Wagué Diakité. Baba Wagué Diakité: I am from Mali, West Africa.
My name, Baba Wagué, was given to me by my mother in honor of her own father. Baba means "father." Wagué means "the man I trust," and Diakité means "hold onto my back." It is a pleasure for me to carry this name and live up to their meanings as well.   From the PCC website: Writer, illustrator, sculptor and ceramic artist Baba Wagué Diakité's work has been exhibited throughout the U.S. including the Craft and Folk Art Museum of Los Angeles and the New York Public Library. A recent book publication, "The Hunterman and the Crocodile," was named a Coretta Scott King Honor Book. Diakité was born in 1961 in Mali, West Africa.  He spent his early childhood in Kassaro, a small agricultural village, tending sheep, working in the rice and peanut fields and stalking animals in the bush with his friends. He later moved to the town of Bamako where he enrolled in French school to complete his formal education.  The artist came to the U.S. in 1985 and settled in Portland, where he began producing his highly acclaimed books and painted ceramic work, which remain infused with West African Folklore and the rich experiences of his rural childhood. He is the founder of the Ko-Falen Cultural Center, in Bamako Mali, which promotes artistic and educational exchanges between citizens of the United States and Mali. Wague, his wife, the sculptor Ronna Nuenschwander and their two children currently share time between Portland and Bamako.     AND ANOTHER ASK…. Are you listening?  KBOO Radio is a volunteer-run nonprofit and it needs your money if you are listening.  Go here to donate. 
https://secure.givelively.org/donate/the-kboo-foundation/2021-kboo-spring-membership-drive
It's like an old school version of smashing the like and sub buttons. 
To hear previous episodes of this show or any of our KBOO public affairs programming, just go to KBOO dot F-M or listen on iTunes, Google Play, or wherever you get your podcasts.   Aurora Josephson is a musician and visual artist who currently resides in Portland, Oregon. Building on the foundation of operatic training and a BA and an MFA in Music Performance from Mills College, she has forged a bold vocal style that is uniquely her own. To unleash the limitless range of sonic possibilities in the voice, Josephson employs a variety of extended and unconventional techniques drawn from the worlds of contemporary composition, improvisation, and rock. She has performed and recorded with Alvin Curran, Gianni Gebbia, Henry Kaiser, Joelle Leandre and William Winant, and musical groups Big City Orchestrae, Flying Luttenbachers, The Molecules, ROVA Saxophone Quartet, T.D. Skatchitband and the Merce Cunningham Dance Company. -- Aurora Josephson
www.aurorajosephson.com
Update Required
To play the media you will need to either update your browser to a recent version or update your
Flash plugin
.
Download audio file