Air date:
Mon, 05/24/2021 - 11:00pm

to

Tue, 05/25/2021 - 12:15am
More Images: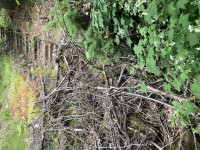 An interview on the site of a collective of houseless anarchists doing mutual aid and camp defense in the community.
Houseless people helping each other when the city won't. After conducting a 2 day arrangement to get to know the Community of this partticular collective and overcoming anxieties behind a topic that can be considered controversial and destructive. The vision behind PDXHRC (Houseless Radicals Collective) is now clear. Mutual Aid. Eclectic Pandemic would like to make two things clear regarding the topic and content of this program. 1. KBOO PORTLAND in no way shape or form contributed to the research, recording, interviewing or involvement of Eclectic Pandemic's program. "The Anti Files (In The Case Of The Park Block Dear)" or any other program. 2. Thomas of Eclectic Pandemic would like to make one thing very clear. The idea of Eclectic Pandemic was to cover topics in Portland that deal with the betterment of Portland and provide information without bias. The idea's, thoughts, opinions, and music in this program, do not contain Thomas' beliefs or opinion. Nobody will be left out in the rain.