Air date:
Wed, 05/19/2021 -

6:00pm

to

6:30pm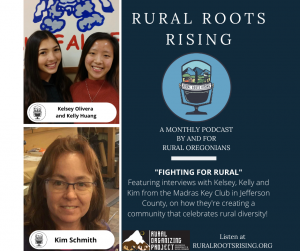 Fighting for Rural features Kim Schmith, Kelsey Olivera, and Kelly Huang of the Madras Key Club sharing a story of multigenerational small-town organizing for equity! Madras Key Club is working inside the schools to build a more inclusive Jefferson County. You'll learn about their work celebrating their family's traditions in a local park, distributing Christmas gifts to families who can't afford them, ensuring high school students can succeed in small towns, and creative problem-solving in the age COVID-19. 
Find out when your local radio station is playing Fighting for Rural at ruralrootsrising.org!
Download this episode's transcription here. Spanish translation coming soon!
More on what you heard in this episode:
Madras Key Club hosted three cultural events over the summer of 2019 focused on Mexico, El Salvador and Peru, the three main Latino cultures represented by people in Madras, and Key Clubbers themselves. Kim also wrote for the local Madras paper about their Mexican Cultural Day and Peruvian Cultural Day.
If you are interested in connecting with rural Oregonians to start your own group, check out Rural Organizing Project's resources at rop.org, or reach out to us at office@rop.org for direct support. To learn more about Rural Organizing Project (ROP) and how you can get involved, check out www.rop.org.
Did you like the music in this episode? Listen to more Oregon-made music by The Road Sodas, and Diana Wild and support these local artists