Air date:
Mon, 01/11/2021 -

8:00pm

to

10:00pm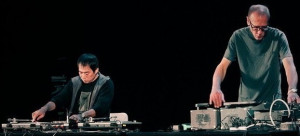 More Images: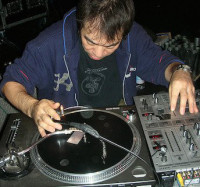 Tonight, on a particularly noisy A Different Nature, we'll hear the turntable stylings of Otomo Yoshihide and Christian Marclay.
大友良英, Otomo Yoshihide (born August 1, 1959 in Yokohama, Japan) is a Japanese experimental musician, turntablist and guitarist. He played in rock bands while at college, but turned to improvisation after discovering free jazz and free improvisation musicians like the guitarist Derek Bailey, the saxophonist Kaoru Abe and guitarist Masayuki Takayanagi (from whom he had lessons). Otomo studied at Tokyo University from 1979 where he took a course on ethnomusicology in which he concentrated on Japanese pop music during World War II and the development of musical instruments during the Chinese Cultural Revolution (samples of instruments and music from this period are found in several of his records).
Otomo began to release records from the end of the 1980s. He has been very prolific, working in a variety of styles and collaborating with a wide range of musicians. For much of the 1990s his main project was Ground Zero, a large group founded in 1990 with an ever-changing lineup. They played music in a variety of styles, perhaps best summed up as noise rock with an experimental edge. Ground Zero was disbanded in 1998. Towards the end of that group's life, Otomo formed Filament with Sachiko M, an outfit which concentrated on music made from sine waves, clicks and hums, and ISO (Otomo Yoshihide, Sachiko M and Yoshimitsu Ichiraku), which played purely electronic improvisations. He also continued to play with other musicians on a variety of projects. At the end of the 1990s he founded Otomo Yoshihide's New Jazz Ensemble, a group that played more traditional jazz (albeit with added sine waves from Sachiko M and noisy passages). In Japan, a more consistent lineup of the group, used the name Otomo Yoshihide's New Jazz Quintet, for several releases. Records released under his own name include Cathode (1999), Anode (2001). Otomo has also released duo albums with early experimental turntablist Christian Marclay ("Moving Parts", 2000) or Nobukazu Takemura ("Turntables + Computers", 2003).
London-based Christian Marclay was born in 1955 in San Rafael, CA and grew up in Geneva, Switzerland, where he studied at the École supérieure d'art visuel , eventually moving to the United States to complete his BFA at the Massachusetts College of Art.
Marclay has been performing and recording music as an integral part of his work since 1979. Using phonograph records as his "musical instruments", he mixes altered records on multiple turntables in a display of precise and abusive manipulations. He has performed throughout Europe, Japan, Canada and the United States and has collaborated with many composers and musicians including Elliott Sharp, John Zorn, Kronos Quartet and Sonic Youth.
The relationship between sound and image is central to Marclay's work. His work consistently plays with music and musical instruments, as well as the visualization of music. He has made sculptures from discarded CDs, melted vinyl records, sewn record covers together to create mixed media works and created installations with works depicting musical instruments from museum collections.
Update Required
To play the media you will need to either update your browser to a recent version or update your
Flash plugin
.