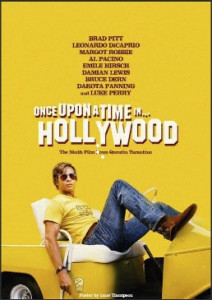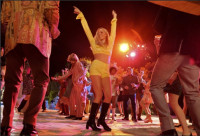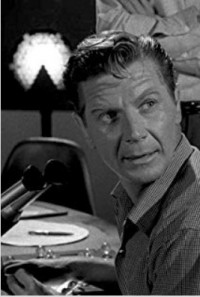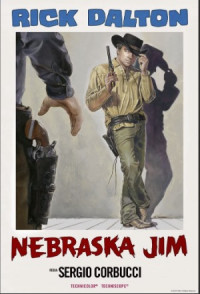 Published date:
Tuesday, July 30, 2019 - 3:56pm
Produced for (Program name):
Once Upon a Time ... in Hollywood is Taratino's best film in a long time

As Chekov once said, if you introduce a flame thrower in the first act, it must be discharged in the last. 
Or something like that. 
But let's not talk about flame throwers and story craft. Let's discuss Joe Maross. 
If you know his backstory, you have to feel a little sorry for Joe Maross. Born in Barnesboro, Pennsylvania, in 1923; studied theater at Yale; was stationed in Hawaii during the war; and upon return, worked his way up through the boards of Broadway. In early live television, based in Manhattan, Maross was soon eyeballed as a character actor. Among his many live TV credits were Kraft Television Theatre, where such later luminaries as James Dean, Nancy Marchand, James Gregory E. G. Marshall, George Reeves, Elizabeth Montgomery, Ed Begley, Leslie Nielsen, and Bea Arthur made appearances between theater auditions. Moving to Hollywood, he ended up in shows such as Bonanza, Tightrope, and Mr. Lucky. A "big break" came when cast as Pete opposite Burt Lancaster in Elmer Gantry, but he instantly returned to TV in Hitchcock Presents, Twilight Zone, Combat, Wagon Train, Outlaws, Stony Burke, Gunsmoke. He had a recurring role on Peyton Place. Then movie roles in Sometimes a Great Notion and as Chuck in The Salzburg Connection (his characters always seemed to have but one name). Then it was back to TV. He was in Mannix, The Time Tunnel, Rockford, Cannon, Kung Fu, Dallas, and – inevitably – Murder, She Wrote. After 121 credits and two marriages, he died from a heart attack on November 7, 2009, at the age of 86 in Glendale. 
On the evening of November 28, 1965, however, Maross appeared in an episode of The F.B.I., called "All the Streets are Silent," directed by William A. Graham, one of the standbys of episodic television in the 1960s. He played Jess Murtaugh, a member of a gang that pulls a military weapons heist, and is soon brought to justice by agents Efrem Zimbalist, Jr. and Stephen Brooks. 
However, in Quentin Tarantino's re-writing of history in Once Upon a Time … in Hollywood (note the dramatic pause), it's not Joe Maross who plays (now Michael) Murtaugh, but Rick Dalton, and it airs not in the fall of 1965, but in early 1969, with the result that Dalton is hired to make first one, then three more films in Italy. 
Dalton is a variation on a familiar figure in Hollywood narratives about actors, a person once of great promise, who finds himself on the skids. He begins at the top,  on a hit TV show called Bounty Law, but then, after messing up that job, ends up getting by on character part to character part, usually playing villains. If this were the Clint Eastwood story, the show would be Rawhide, and the Italian movie would be A Fistful of Dollars. But Eastwood wasn't the only American western star on the rise or on the downslide who ended up in Italy. Others included Lee van Cleef, Charles Bronson, James Franciscus, Richard Conte, Telly Savalas, Martin Balsam, Tony Musante, Eli Wallach, Woody Strode, John Saxon, Guy Madison, John Philip Law, and Fred Williamson, either in spaghetti westerns  (called western all'italiana, there), and giallo, or their successor genre the Poliziotteschi. 
Dalton comes back from Italy after six months to his home on Cielo Drive with his new Italian wife, and his stunt double-go-fer, profession friend - driver - antenna repairman,  Cliff Booth, whom he has to fire because, what with the new wife and all, cash is tight. Cliff takes this news with the equanimity with which he receives all news, good or bad, with nonchalant Jules-like sang-froid. It's this quality that makes Cliff the real deal, the thing that Rick is always acting or replicating when he is in front of a camera, a sort of Hal Needham to Rick's Burt Reynolds.
While the wife naps from jet lag, Rick and Cliff decide to have one last drunk, up in Rick's posh house (Cliff lives in a trailer behind a drive-in movie arena). It's the night of August 8th–9th, 1969, and as writer-director Quentin Tarantino has done of late in two previous movies, he rewrites history, making Once Upon a Time part of a soapbox trilogy along with Django Unchained and Inglourious Basterds. Fortunately, Tarantino has stepped off this soapbox for the bulk of OUaT … iH.
As a consequence of the new version of what happened on Cielo Drive that night, it looks like Rick's luck just might change again, for the better – and he'll get to keep on hiring Cliff as stunt double and factotum. 
Which brings us back to Joe Maross. Just as Tarantino has written Rick Dalton into history, he has written Joe Maross out of it, even to the extent that the director has somehow replaced images of Leonardo DiCaprio as Rick into the TV footage of the F.B.I. episode in place of Joe. Thus Joe represents exactly what Rick has feared is happening to him throughout the film, a once ambitious performer now reduced to villains and cameo parts. 
Tarantino doesn't just insert Rick into "All the Streets Are Silent." He also replaces Steve McQueen with Rick in a scene near the end of John Sturges's The Great Escape, a much more sophisticated version of putting Steve Martin in old black and white thrillers. And it must be noted that as Tarantino recreates the look and feel of old TV shows, his eye and hand are deft. Perhaps his most striking "insertion" is Brad Pitt into the part of Cliff – a dual whammy alongside DiCaprio's, a great pair of screen characters, with Pitt endlessly watchable and re-watchable. Steve McQueen is also in OUaT … iH, making a cameo at a party at the Playboy Mansion. Played effectively by Damian Lewis, he is smoking pot standing next to an actress (Kate Berlant?), made up to look like, to me anyway, Joey Heatherton. McQueen offers an accurate summary of the Polanski-Tate-Sebring dynamic. Thanks to Rick, things will probably "now" turn out the way the actor predicts. 

Most of the movie takes place on Sunday, February 9th, 1969, with some action the day before, and then another day six months later on the night of August 8–9, when in the real world the Manson Family slaughtered the Tate-Polanski household. With a lot of free time on their hands, or during a "workday" that doesn't resemble ours,  actors and their friends spend a lot of time having meetings, sitting between takes, and driving. This is arguably the best driving movie since Antonioni's Blow Up (1966). As we human beings do, we drive to the soundtrack of the times, and once again Tarantino and his music consultant, Mary Ramos, have created a mix-tape that comments on and mirrors the action, and sometimes even undercuts it. Usually, Tarantino is drawn to the "novelty" song, but here it's the real tunes that the real people drove, danced, and "hobbie" to. 
Another "mixtape" is the wealth of young and old actors drawn upon to flesh out everyone from a book store clerk (Clu Gulager) to Spencer Garrett (as TV interviewer Allan Kincaide), but special mention must be made of Margaret Qualley (The Leftovers, Anne Reinking in Fosse-Verdon, and the daughter of Andie MacDowell) as Pussycat, the "face" of the Family. A per the Rule of Three in Hollywood and Hollywood, Cliff spies her three times while she is hitchhiking, and on the third gives her a ride to the Spawn Movie Ranch, where Cliff once did some work. In a long and tense scene, Cliff walks the gauntlet of the Manson followers, with Pussycat going from a seductive pixie teen (with great dance moves) to a black cloud of lethal intent. 
I haven't particularly liked the previous three Tarantino movies, and this comes from someone who has published two books on the director. He has always been given to speculating in public about whether he is going to do this James Bond movie or that Star Trek film, basically test market balloons sent up to test for interest, but in recent years he has dragged a podium with him, in order to make proclamations, pronouncements, and predictions, often in areas outside his political bailiwick or where silence is the better part of politesse (for example, on the subject of what has come to be called the #Me Too movement). But OUaT … iH is his Ride the High Country, an elegiac testimony to lost times and hard decisions – only this time at the end, none of the good guys get killed. 
And if you ever want to cheer someone up, just peep through the half-opened window of a car door and announce, "You are Rick … Dalton, and don't you ever forget it." Fill in the pause.