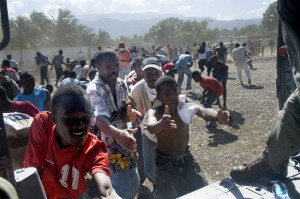 We've raised just over $6,000 for Haitian relief efforts through our special day of programming.
So as of 5:30pm, we've raised just over $6,000 for Haitian relief efforts through our special day of programming.  But the special goes until 10 pm, and we'd love to reach $10,000 before then.  We'll accept donations online until midnight and then that's it.  If you've not yet contributed to earthquake recovery efforts in Haiti, please do so today through KBOO.
We are distributing 100% of all donations made today to these four organizations:
Konbit pou Aiti (Working together for Haiti) - Working together for Haiti is a Haitian-American not-for-profit organization focused on building sustainable livelihoods for the communities in southeast Haiti (Creole name is Konbit pou Aiti). 

Our Soil - a non-profit organization dedicated to protecting soil resources, empowering communities and transforming wastes into resources in Haiti

Honor and Respect Foundation - The Honor and Respect Foundation was created to raise awareness and financial support for Haitian grassroots groups based in poor communities dedicated to achieving social justice, universal education, participatory democracy and economic self-sufficiency.

HACAOT -  advocates for and educates the Haitian community and all members of the Caribbean community on civil and human rights issues such as race, nationality, labor, immigration housing and finance.
Also, many people have asked about the tax deductibility of these contributions, and whether they can be claimed on 2009 taxes.  The IRS has details about this here.  So today, you are making a donation to KBOO, which has decided to not accept any of the money for itself, and is simply acting as a conduit to pass through money to these other organizations.  Your donation is to KBOO, and NOT directly to the Haitian relief organizations listed above.  Read here and here for more details from the IRS.