It's KBOO's Winter Membership Drive! Call 877-500-5266 (KBOO) or Donate online.
Donations as of 12/01/2015 10 AM:
Drive Goal:
$55,000
---
Longshore Workers in the Fight, from Longview, Washington to Buenaventura, Colombia
program date:
Mon, 12/12/2011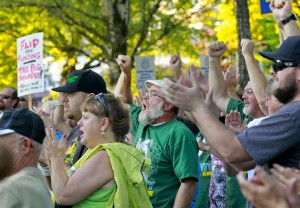 Tonight's show features the current struggles of workers in two ports. First we speak with Dan Coffman, President of ILWU Local 21, about the Longview workers' courageous fight against the transnational corporation EGT, and how their community has mobilized and braved police brutality to stand up for good local jobs. Then we hear John Walsh's interview with longshore workers of Unión Portuaria in Buenaventura, Colombia, talking about the conditions in which they live and work, and their own workplace struggles.
Photo: via ILWU, http://www.longshoreshippingnews.com/2011/10/hundreds-gather-to-show-union-support/
Length: 29:36 minutes (20.33 MB)
Format: MP3 Stereo 22kHz 96Kbps (CBR)