Voices from the Edge on 06/30/11
Air date:
Thu, 06/30/2011 -

8:00am

-

9:00am
Short Description:
Don't Call Them Post-Racial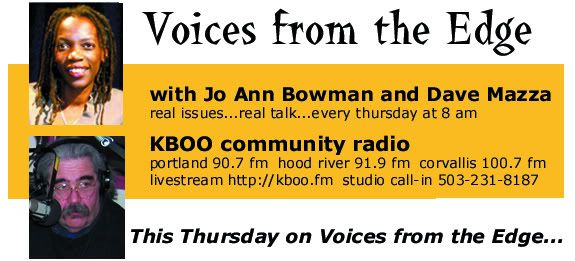 Don't call them "post-racial"
Those born after 1980 - the "Millennial Generation" - are the largest, most racially and ethnically diverse generation in our nation's history. They've been labeled "post-racial" by the media - a description that has only become more entrenched since the election of the nation's first black president. But what role do they see race playing in their lives?
This week, Jo Ann and Dave talk with Dominique Apollon of the Applied Research Center and author of "Don't Call Them Racial," a new report by the center that examines how those under 30 see race affecting their lives and explores the diversity of views held by this generation on the extent and significance of race in our society and its institutions.
Jo Ann Bowman is a former state legislator, former executive director of Oregon Action and past board president of Portland Community Media as well as a long-time leader in the struggle for racial and economic justice. Dave Mazza is a freelance journalist and former editor of The Portland Alliance who has covered and been involved in Portland's civil rights, environmental, labor and peace movements for over 20 years
Join Jo Ann and Dave every Thursday as they bring you guests and conversations on the issues that are important to you. Support Voices from the Edge by becoming a member of KBOO today (just click the "tip jar" on our website to find out how).
Co-Hosts: Jo Ann Bowman and Dave Mazza
Producers: Dave Mazza and Jo Ann Bowman
Program Engineer: Steve Nassar
Audio Editor: Alicia Olson
---
Voices from the Edge
kboo community radio
portland 90.7 fm hood river 91.9 fm corvallis 100.7 fm
livestream kboo.fm
studio call-in 503-231-8187