Voices from the Edge on 05/05/11
Air date:
Thu, 05/05/2011 -

8:00am

-

9:00am
Short Description:
Finding Yashanee Vaughn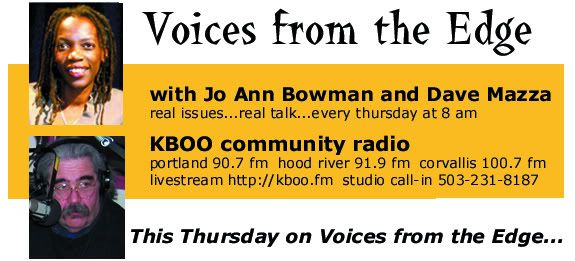 Fourteen-year-old Yashanee Vaughn was last seen near a Taco Bell restaurant on Portland's Northeast 82nd Ave. on March 19. Vaughn was on her way to meet with her family. A missing persons report was filed on March 21, however, police viewed Vaughn as a runaway. Ten days later they upgraded Vaughn's status to missing and on March 31, Portland Police Chief Mike Reese announced Vaughn was likely killed that first evening she disappeared.
A 16-year-old youth is being charged with her murder
. Were police justified to view this as another runaway case? Did their delay in classifying Vaughn as missing reflect deeper institutional problems?
This week, Jo Ann and Dave speak with Vaughn's mother, Shaquita Lewis, and Kiante Griffin, Vaughn's cousin, about the missing girl and the family's struggle to find her.
Jo Ann Bowman
is a former state legislator, former executive director of Oregon Action and past board president of
Portland Community Media
as well as a long-time leader in the struggle for racial and economic justice.
Dave Mazza
is a freelance journalist and former editor of
The Portland Alliance
who has covered and been involved in
Portland's civil rights
, environmental, labor and peace movements for over 20 years
Join Jo Ann and Dave
every Thursday
as they bring you guests and conversations on the issues that are important to you. Support Voices from the Edge by becoming a member of
KBOO
today (just click the "tip jar" on our website to find out how).
Co-Hosts: Jo Ann Bowman and Dave Mazza
Producers: Dave Mazza and Jo Ann Bowman
Program Engineer: Steve Nassar
Audio Editor: Alicia Olson
portland 90.7 fm hood river 91.9 fm corvallis 100.7 fm
studio call-in
503-231-8187