copyright, copyleft, and fair use
What is Copyright?
Copyright allows you to own the things (writing, music, photography, etc) that you create. If you create it, you own it. That allows you to reproduce it, to make & distribute copies, to create derivative works, and to display or perform the work publically.
You can give up your copyright by licensing a copyleft or Creative Commons license. Or, if you work for a business and you are paid to create content, in some cases, you no longer hold a copyright to your own work.
Now, wait, how do you refer to copyrighted pieces? Fair use!
The Attributor Blog provides a good guideline to fair use:
The excerpt must contain a link. A no-brainer but you'd be surprised how many sites lift content without linking back. In our studies, this ranges from 30-40%.
The excerpt must be less than 50% of the original article. The actual percentage is debatable, but it's hard to argue that the average reader will want to click through to read the original article if over half of it has been excerpted.
The excerpt must be less than 100 words. Again, the number is debatable and probably too high for some blog posts, but when used in combination with the % of original article, it can provide a good guideline.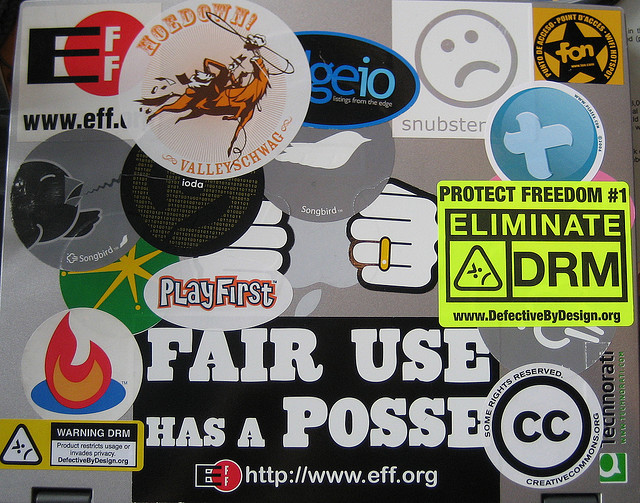 I know, you're saying, that's all fine and good, VJ, but I'm just a volunteer or a listener of a community radio station, how does this effect me?
Well, I'm just asking that you think about copyright when you express your ideas.
This means, don't just copy and paste a whole newspaper article that's available online. Sum up your feelings about it, and give a link back to it.
This means, if you use a photo or graphic that isn't yours, make sure it has a Creative Commons license and attribute to the creator (in smaller words, say, "photo, Old Tree by VJ" and include a link.)
And if you're interested in being able to find images that are Creative Commons-ed, please come to the Finding Creative Commons Graphics training on Wednesday, April 27 -- the sign up is by the receptionist's desk.
And what's in it for you, other than that warm feeling that you're making the world a better place? Well, legally, if we have full articles/photos/etc. that belong to someone else online that we don't have permission to use, we can get sued. You might see it as spreading the word, but businesses see it as content theft. And, Google and other search engines see it as spam, which means a strike against our rankings at best, and could end up getting us entirely removed from their index.
Given that the majority of users of the KBOO website use a search engine to get to us, that would be very bad indeed.
Here are a few more articles that expand on these issues:
The images used in this blog post are Creative Commons!
photo, Weird Al, Orange County Fair, 2000, courtesy of Orange County Archives
photo, laptop stickers 27th September 06 photo, courtesy of YayAdrian