Best of Times, Worst of Times: Waking Up the Slumbering Giant in Wisconsin
program date:
Mon, 03/14/2011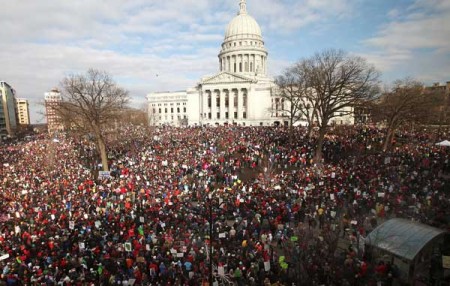 Will 2011 be remembered the beginning of a great uprising, or labor's last gasp? Governors in Wisconsin and across the country are pushing draconian measures to cut public services and the power of working people, but union workers and their allies are mobilizing resistance on a scale not seen for decades in this country.
We speak with Adam Sanchez, member of Portland Association of Teachers and ILWU Local 5, who recently traveled to Madison to join protesters occupying the Capitol.
"I think what we're going to see is a concerted attempt to lower the standard of living of American workers for at least a ten-year period to a point where we can compete with these emerging economies, like China, Brazil.... and that there's not going to be massive resistance to that? There's no way that's gonna happen."
We also speak with a first grade teacher and member of Milwaukee Teachers' Education Association who was in the Capitol Thursday when the anti-union bill passed the Assembly.
Links mentioned in the show:
Photo: In These Times, March 13, 2011, "In Madison, nearly 100,000 protest Gov. Walker's corporatist vision"
Length: 26:58 minutes (10.8 MB)
Format: MP3 Mono 22kHz 56Kbps (CBR)