Thanksgiving Special: Tofurky, Oregon Cranberries and The Adaptable Feast
program date:
Wed, 11/18/2009
Thanksgiving Special: Cranberries, Tofurky and The Adaptable Feast. Local chef Ivy Manning talks about her new cookbook The Adaptable Feast, with recipes to feed both omnivores and vegetarians at your holiday table.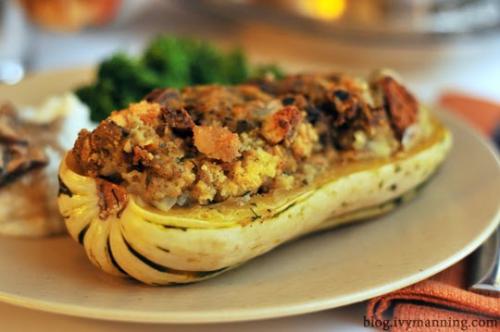 (Click here for Ivy's Stuffed Delicata Squash recipe, pictured in her photograph above.)
Then we probe the history of Tofurky (made right here in Hood River) and ask if there are more nutritious, and tasty, non-turkey options. Nutritional therapist Traci Goodrich and Tofurky founder Seth Tibbott joined us in this debate. Goodrich is leading some vegetarian-friendly cooking classes at the nearby Salt, Fire & Time new community kitchen.
And Port Orford cranberry grower Scott McKenzie will tell us about his bountiful and salmon-friendly Southern Coast crop.
(http://www.grandcentralbakery.com/bakers-blog/cranberry-pear-galette)
Our program starts a few minutes into the interview with Ivy Manning...
Length: 49:12 minutes (28.16 MB)
Format: MP3 Mono 44kHz 80Kbps (CBR)