Urban Forager tries living off wild edibles for a week
program date:
Sun, 05/31/2009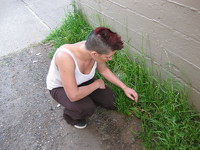 Last week urban forager and blogger Rebecca Lerner undertook a seven day experiment to eat only foraged foods found within the city limits of Portland.
She blogged about her experiment on the website http://www.culturechange.org.
KBOO Reporter Geoff Watland spoke with Rebecca today to ask how the experiment turned out.
Length: 11:26 minutes (10.47 MB)
Format: MP3 Mono 44kHz 128Kbps (CBR)