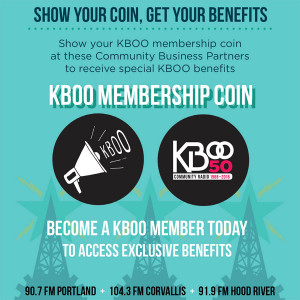 Member Benefit Partners
Show your proof of KBOO membership coin for:
Tender Loving Empire 20% off purchase at any one of their 4 locations
Stay tuned for more benefits!
Are you a Portland-area business and want to support KBOO?
Contact us for more information on how to become a KBOO member business partner!
Beneficios de la Moneda de Membrecía
Muestra tu moneda de Membrecía para prueba:
Tender Loving Empire 20% de discuento concompras en cualquier de las 4 ubicaciónes. 
¡Manténgasen alertos para mas beneficios!
¿Tienes un negocio en Portland y quieres apoyar a KBOO?
¡Contáctenos para mas información en como puedes convertirse en un compañero de KBOO!
Puedes mandarnos un correo electrónico a underwriting@kboo.org y nos puedes llamar a (971) 801-1387