Courtney Taylor-Taylor and One Model Nation
program date:
Thu, 02/16/2012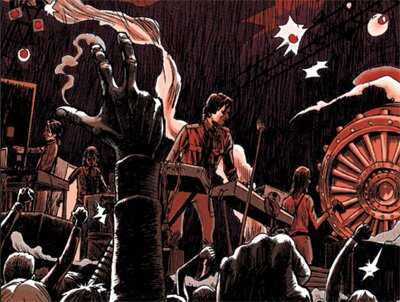 What happens when an industrial Krautrock band gets mixed up with the radical Red Army Faction in 1970's Berlin? Find out on this special expanded edition of Words & Pictures' Winter Membership Drive special.

Joining us in the studio is Courtney Taylor-Taylor, co-founder and frontman for protean Portland band The Dandy Warhols. Courtney has teamed with chamelonic artist Jim Rugg and actor/musician/historian Donovan Leitch to craft the new graphic novel One Model Nation, set in an alternative version of Berlin where the burgeoning era of glam, noise, and punk meets the explosive anarchy of the Baader-Meinhof gang.

As part of KBOO's Winter Membership Drive, limited copies of the One Model Nation hardcover will be available as thank-you gifts for your $60 pledge of support. Also available at the $60 membership level will be the One Model Nation companion CD Totalwerks Vol. I (1969-1977).
You can join KBOO by clicking here and entering the appropriate code (below).
One Model Nation hardcover Titan Books BK ONEMODEL
Totalwerks Vol. I (1969-1977) The End Records CD ONEMODE