Voices from the Edge on 07/14/11
Air date:
Thu, 07/14/2011 -

8:00am

-

9:00am
Short Description:
Walking with the homeless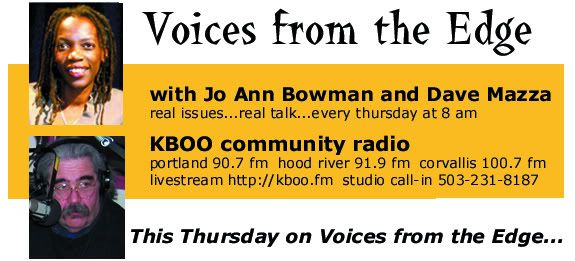 Walking with the homeless
Oregon's homeless struggle every day for food and shelter. They also struggle with the wounds of child abuse, sexual assault and domestic violence. Oregon Housing and Community Services' one night homeless count last year, identified 1,684 homeless Oregonians, out of a total count of 19,208, as victims of domestic violence. Tracking such trauma among the homeless is difficult at best and often not tracked at all in cases involving homeless adults who were abused as children. Worse still, homeless victims are often unable to find support or even recognition of their trauma.
This week on Voices from the Edge, Dave talks with Compassionate Gathering founder Virginia Jones about her efforts to create support for the homeless in this struggle. Israel Bayer, editor of Street Roots, will also join the conversation. Jones' and Bayer's organizations are sponsoring a July 18 "Walk with the Homeless" as part of Compassionate Gathering's ongoing "walks across Oregon" to stop abuse and heal wounds.
Jo Ann Bowman is a former state legislator, former executive director of Oregon Action and past board president of Portland Community Media as well as a long-time leader in the struggle for racial and economic justice. Dave Mazza is a freelance journalist and former editor of The Portland Alliance who has covered and been involved in Portland's civil rights, environmental, labor and peace movements for over 20 years
Join Jo Ann and Dave every Thursday as they bring you guests and conversations on the issues that are important to you. Support Voices from the Edge by becoming a member of KBOO today (just click the "tip jar" on our website to find out how).
Co-Hosts: Jo Ann Bowman and Dave Mazza
Producers: Dave Mazza and Jo Ann Bowman
Program Engineer: Steve Nassar
Audio Editor: Alicia Olson
---
Voices from the Edge
kboo community radio
portland 90.7 fm hood river 91.9 fm corvallis 100.7 fm
livestream kboo.fm
studio call-in 503-231-8187