Olga Sanchez of Milagro Theatre
program date:
Tue, 10/19/2010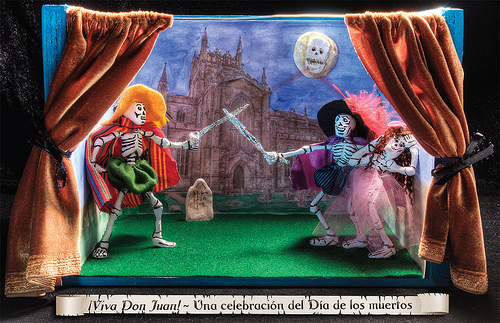 Host/Producer Dmae Roberts features Olga Sanchez, artistic director of Milagro Theatre, the Northwest's premiere Latino theatre. Learn about their new season, which includes Viva Don Juan, the Day of the Dead celebration, Duende de Lorca, Anna In The Tropics, Boomcracklefly and Lazarillo. We also find out about Sanchez' vision for the theatre and about her career as an actor and director.
This is the final membership drive edition of Stage and Studio.
Please support KBOO, your community station. Call now at (503)232-8818 or (877) 500-5266 (toll free).Or donate online.
Make sure you use Code T02 when you call to make sure your donation count towards Stage & Studio!
You can hear Stage & Studio at the KBOO website or on 90.7FM live at 11am Tuesdays.
Or you can subscribe to the podcast on iTunes so you don't have to miss a show.




And don't forget to visit the official Stage & Studio website.







Olga Sanchez & Dmae Roberts