Beautiful Rage: Women's Protest Music of the Decade
With pride and terror, I compiled a collection of women's "protest music" of the last decade which aired recently on Bread and Roses (Fridays, 6-7pm). Pride: because of the power of these women's voices. Terror: because of the memories of the Bush years and the worry that US policy has not really changed since Bush. This selection below represents just a few of the many protest songs of the decade.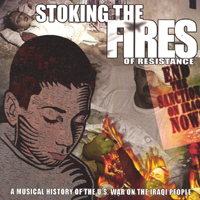 From the CD Stoking the Fires of Resistance, I found myself reliving the horror of US sanctions against Iraq. Sue Jeffers in her song "Yelling For War" echoed the drumbeat of the time, then ends the song with audio from the first George Bush and General Schwarzkopf declaring how necessary it is to destroy Iraq. And this was before 9/11. Little did we know what was to come.
Ani D'Franco in her poem/song "Self Evident" captures our own homegrown terror of 9/11 when the deaths of "3,000 poems disguised as people" are used as an excuse for a "prep school punk's" plan for retribution. Ani D'Franco speaks to our collective rage--and impotence--in George W. Bush's America.
How easy it has been to forget the Bush years! And how shocking to realize that "those years" were not so long ago. Into the Bush mix, Patti Smith recorded a reading of the Declaration of Independence, available for free download on her website. If you've forgotten the litany of wrongs committed by George Bush, Patti Smith conveniently lists them as she makes a case for impeachment.
Political casualties of the Bush years included the all-star country stars the Dixie Chicks. After singer Natalie Maines declared that she was "ashamed the president of the United States is from Texas," Dixie Chicks music was banned from radio stations and the band received death threats. "Forgive sounds good, forget I'm not sure I could" sings Maines in the song "Not Ready to Make Nice." The Dixie Chicks journey through right wing hate is chronicled in the documentary "Shut up and Sing."
Truth was another casualty of the decade. Lila Downs in her song "Nothing But the Truth" fights back, declaring: "Maybe today will be the day I'll make a change."
And finally, we have the real casualties of war. In "Travis John," a song about Cpl. Travis John Bradach-Nall, a solider from Oregon killed in Iraq, Oregonians Kate Power and Steve Einhorn sing: "Under a foreign sky my fate awaits me. ..I am a boy full of promise, full of power." The song is beautiful in its gentleness.
This list of "best of" songs is by no means complete. This small sampling, however, brings a powerful memory of history and a challenge for all of us to bring forth more joy and peace in the coming decade. Music will help us do so.