Food Show on 11/18/09
Air date:
Wed, 11/18/2009 -

11:00am

-

12:00pm
Short Description:
Thanksgiving special: cranberries, Tofurky and The Adaptable Feast.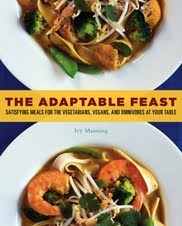 Thanksgiving Special: Cranberries, Tofurky and The Adaptable Feast. Local chef Ivy Manning talks about her new cookbook The Adaptable Feast, with recipes to feed both omnivores and vegetarians at your holiday table. We'll probe the history of Tofurky and ask if there are more nutritious, and tasty, non-turkey options. And Port Orford cranberry grower Scott McKenzie will tell us about his thriving and salmon-friendly Southern Coast crop.