Special Programming: Public Affairs on 05/01/09
Air date:
Fri, 05/01/2009 -

10:00am

-

3:00pm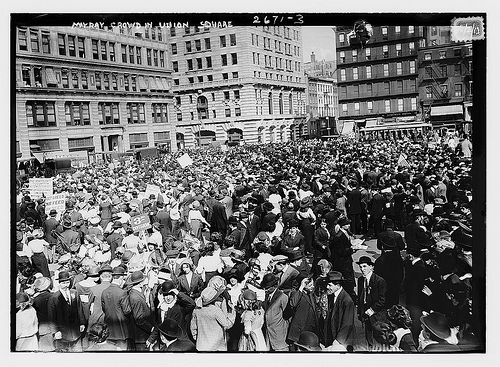 MAYDAY! MAYDAY!
Support your community radio station! KBOO's Spring Membership Drive runs May 1st – 16th
Tune in for this special program: Friday May 1st — Mayday! 8 am – 3 pm (1 – 3 en español) International Worker's Day – kickoff of KBOO's Spring Membership Drive – From its pagan origins to its radical present, May Day has always been a time of joyous festivities and empowerment. Today we celebrate international solidarity among workers, community organizing and the end of corporate globalization!
Download this flier and help spread the news!
7 - 8 Democracy Now
8 - 9 Mayday Talk Radio special with Joe Uris and the band General Strike!
9 - 10 APA Compass - Mayday special
10 - 10:15 Air Cascadia
10:15 - 12:00 Mayday history and local organizing - including archival footage of Dolores Huerta and Cesar Chavez and live interviews with local radical historian Michael Munk and other rabble rousers
12:00 - 1:00 Reports from Mayday marches around the world, hosted by Bill Resnick
1:00 - 3:00 Buscando America - Primero de Mayo Especial
4:00 - 5:00 Democracy Now!
The 5:00 News hour will include live reports from the March in downtown Portland
6:00 - 7:00 Bread and Roses will also have a Mayday-related show