7/21 - East Portland Exposition
KBOO is a proud sponsor of the East Portland Exposition!
The East Portland Exposition (EPO XPO) is the largest multicultural event in the City of Portland and features both traditional and contemporary performances as well as numerous exhibitors, food, and activities for children and families.
For our fourth year, EPO XPO will be held on Saturday, July 21 and will begin at 11 a.m. until approximately 7:00 p.m. We have a new location this year at Earl Boyles Park within a magnificent grove of Douglas Firs. The park is conveniently located on SE 112th between SE Holgate and SE Powell Boulevard. Be sure to visit Audubon Portland and two of their birds of prey at the East Portland Exposition!
Come immerse yourself in the incredible depth and diversity of Portland — and get your groove on in the grove.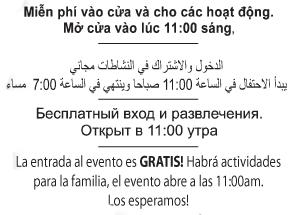 EPO XPO, is proud to partner with Colored Pencils Art and Culture Council. Colored Pencils is one of the leading organizations working with Portland's new immigants and refugees. They specialize in creating a family atmosphere with their entertainment programs. A key strategy is the integration of personal stories with cultural performances, which makes for a more intimate and personal experience for everyone. They are also known for creating programs that include both traditional and contemporary performances, bringing a depth and breadth to their events that is not seen in other culturally-based activities.
EPO XPO includes culturally-inspired performances as well as 6 Villages (Haitian, Latin American, Iraqi, Asia Pacific, Native American, and Russian/Slavic) hosted by an organization representing one of the numerous cultural groups in Portland. Each Village features education as well as interactive activities. Last year, these included making dream catchers, jewelry, and drum sticks in the Native American Village; pinata making in the Latin American Village; and much more.
Haitian Village
The Haitian Village will display arts from Haiti, and host Haitian drumming and traditional dance workshop open to the public, all ages are welcome.
SHACS is also seeking financial donation to support our Orphanage project in Haiti. A land is already donated to this project, but SHACS needs at least $300,000 to complete the project.SHACS is a non-profit organization every donation is tax deductible.
SHACS also provides Haitian creole classes, arts, drumming, traditional dance, translation services, family wellness class, social support and more which are open to the public. For more information, on SHACS and all of their activities and projects, please go to www.shacnorthwest.org.
Latin American Village
Latin America is made up of several countries, each with their own contributions to an incredibly vibrant cultural experience. Like most American cities — West Coast cities in particular — Portland is mostly influenced by Mexico. The influence of Latin American culture is profound and touches many parts of every day life.
The Latin American Village hours will be open all day Sunday (from 11:00 a.m. to 8:30 p.m.)
The Latin American Village will focus on piñatas. Participants will be able to make their own mini piñata to take home. There will also be a piñata breaking a couple times during the day. In addition, between 3:15 p.m. and 4:15 p.m., Multnomah County Library will be conducting a storytelling in Spanish. The storytelling time is geared to children between the ages of 3 and 7.
The Latin American Village will be hosted by El Programa Hispano, a component of Catholic Charities. For more information on El Programa Hispano, check out their Internet site at www.catholiccharitiesoregon.org/services_latino_services.asp.
Iraqi Village
Mesopotamia, the cradle of civilizations, Bet Nahrain (house of two rivers —Tigris and Euphrates) are all names that refer to Iraq. Iraq is the home of many ancient civilizations such as Summerians, Akadians, Babylonians, and Assyrians. These civilizations had profound impact on human civilization, including the first system of state governance, the first system of language writing, the first epic in literature (the Epic of Gilgamesh), the first constitution (the code of Hamurabi), and astrology.
Iraqis started immigrating to Oregon around mid 1950s. Oregon, also, provided shelter for Iraqi refugees in mid 1990s, and recently after 2003.
The Iraqi Village will be open on Sunday from 4:00 p.m to 8:30 p.m. The Iraqi Village will be hosted by the Iraqi Society of Oregon.
Asia Pacific Village
The numerous cultures of Asia Pacific have a long history in Portland. Portland's first sister city was Sapporo, Japan and was established in 1959. Today, Asia Pacific influence is still strong and continues to grow. East Portland, most notably 82nd Avenue, is quickly becoming known as the new Chinatown. However, it is very reflective of much of Asia Pacific and includes representation from many cultures in the region.
Activities being considered for the Asia Pacific Village include martial arts demonstrations, lion dance, drumming, tai chi and/or qi going lessons, Chinese lantern making, calligraphy, origami lessons, among others. This year, in addition to the activities, Multnomah County Library will be hosting storytelling times in Vietnamese and Mandarin Chinese.
The Asia Pacific Village will be open both days. Village hours are: Saturday, 12;00 p.m. to 3:00 p.m., 3:15 p.m. to 4:15 p.m. for storytelling, and then from 5:00 p.m. to 8:00 p.m., Sunday Village hours are 11:00 a.m. to 3:00 p.m. The Asia Pacific Village will be hosted by Wisdom Arts Academy. For more information on Wisdom Arts Academy, please visit their Internet site at: www.wisdomarts.org.
Native American Village
The Northwest is home to numerous Native American tribes and their influence is deeply felt here. For example, Multnomah County was likely named after the Native American people first recorded by Lewis and Clark, Mulknomans, who lived in a village on the east side of present-day Sauvie Island. Last year, activities for the Native American Village included dream catcher making, drumstick making, jewelry making (beaded bracelets), and traditional drumming and dance.
The Native American Village will be open all day both days. Village hours are 11:00 a.m. to 8:30 p.m. The Native American Village is hosted by Chako Kum Tux Native American Student Club at Mt. Hood Community College. Chako Kum Tux has been at Mt. Hood Community College for several decades and is very active in the community, including participating in numerous Pow Wows throughout the Summer.
Russian/Slavic Village
One of Portland's most recent group of cultural newcomers is from the Slavic countries, which includes Russia, Ukraine, Romania, among others. East Portland in particular has seen a significant increase in population of slavic cultures in the past decade. This group of cultural newcomers now represents one of the largest cultural groups in Portland.
Activities in the Russian/Slavic Village includes traditional Russian games Brook and Karaway, cloth doll making, traditional song and dance, and jump rope. Traditional Russian souvenirs and jewelry will be on display. Free Russian cookies will be available while they last!
The Russian/Slavic Village will be open all day Saturday from 11:00 a.m. until 8:30 p.m. The Russian/Slavic Village will be hosted by Ecumenical Ministries of Oregon: Russian Oregon Social Services (ROSS).