Rethinking Holiday Shows
Air date:
Tue, 12/10/2013 -

11:00am

-

11:30am
Short Description:
Artists Repertory Theatre's 'Xmas Unplugged' & Triangle Productions' 'American Fiesta'
Finding holiday fare to produce in a theatre season can be a difficult task. A theatre can only do so many Charles Dickens and Christmas movie adaptations before looking for more offbeat choices. Dmae focuses on two plays that are wildly different from each other: Artists Repertory Theatre's Xmas Unplugged directed by Louanne Moldovan and Rusty Tennant and Triangle Productions' American Fiesta directed by Donald Horn. Find out about these shows and win tickets during the live broadcast.Photos for Artists Rep by Owen Carey.
Artists Rep present
Xmas Unplugged
, an irreverent and edgy evening of two one-act plays.
The first is the world premiere of Matt Pelfrey's
The Reason for the Season
directed by Rusty Tennant (with Steve Coker, Foss Curtis, Chris Murray - photo upper left) featuring a wrestling match between parents and Santa. The second play is the Northwest Premiere of Anthony Neilson's
The Night Before Christmas
directed by Louanne Moldovan (with Steve Coker, Chris Murray, Luisa Sermol, Jill Westerby - photo right) in which unsavory characters hold an elf hostage to spill Santa's secrets.
Performances run through December 29th, Wednesday through Sunday at 7:30pm, Sunday at 2pm. All those are at Artists Repertory Theatre Morrison Stage (located at 15th and Morrison St.) Tickets: $25-$55; Students $20 Box Office: 503.241.1278 or
www.artistsrep.org
.
_________________________________________________________________________________
Triangle Productions presents American Fiesta by Steven Tomlinson.
Though it's not a traditional holiday show, it includes the kind of heartwarming humor associated with the holiday spirit. The main character Steven wants to marry is partner Leon. But the play is set in 2004 and the only place they can marry is in Canada. Steven encounters problems from his family members when he invites them to their wedding.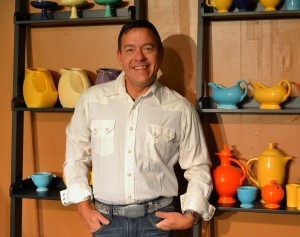 Gary Wayne Cash in American Fiesta
The show's centerpiece is the festive and colorful collection of Fiestaware that was donated by Joan Hayward's estate. The collection has 235 pieces of vintage Fiestaware for the show which is to be sold during the run of the show to raise funds for Triangle productions.
American Fiesta performances run through December 22nd on Thursday, Friday, Saturday @ 7:30 pm with Sunday Matinees @ 2 pm. All shows are at The Sanctuary@Sandy Plaza located at 1785 NE Sandy Blvd. Tickets: $15-$35, 503-239-5919, For more info: www.tripro.org.
Read Bob Hicks review in Oregon ArtsWatch: "
"It's not a Christmas show, but it's probably got the brightest holiday wrapping in town. "American Fiesta," Steven Tomlinson's one-man play at Triangle Productions, is about Fiesta ware, that groovy mix-and-match dinnerware that brightened the Great Depression and several decades after with its rainbow of colors designed to spread decorative sunshine across America's tables."
____________________________________________________________________________________________
You can hear Stage & Studio on: