It's KBOO's Fall Membership drive Donate Now!
Call 877-500-5266 (KBOO)
Donations as of 10/01/2014 6 PM:
Drive Goal:
$80,000
---
Portland Jewish Hour
The Portland Jewish Hour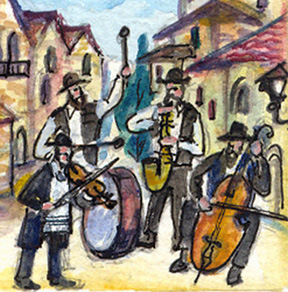 Jewish, Yiddish, Ladino, Klezmer, Israeli, Mizrahi and Sephardic Music and Culture
Every Sunday 10-11 am Pacific Time
Please give us your feedback on the show! You can comment on the show in general, or comment on a specific show by sending us an email at pdxjewish@yahoo.com.
If you would like to publicize an event on the Jewish Hour, send it to pdxjewish@yahoo.com.
To send an email to any of the hosts, click the host's name in the box at the upper right corner of this page.

Upcoming shows:
8/31 Liz hosts

9/7 Chaim hosts
9/14 Shuli hosts
9/21 Shuli hosts
9/28 Chaim hosts

10/5 Shuli hosts
10/12 Chaim hosts
10/19 Chaim hosts
10/26 Shuli hosts